2021 Bring Human Rights Home: We Celebrate Sanctuary Here! Vietnamese and Latinx Community Festival
Start:

Saturday, October 02, 2021

•

11:00 AM
End:

Saturday, October 02, 2021

•

5:00 PM
This October 2nd, we're coming together to host the 2nd "Bring Human Rights Home: We Celebrate Sanctuary Here! Vietnamese and Latinx Community Festival" - a daylong festival with music, food, art-making, and the beautiful people that make up Little Saigon, from Santa Ana, Garden Grove, Westminster, Fountain Valley and more.
Across the country, we still see the vile face of selfishness, racism and greed, provoked by the same people who have incited violence against our working-class, immigrant, and refugee communities. In the face of this divisive rhetoric, the young people of Little Saigon are responding with love for their communities and courage in their hearts. This festival is our call to action.

Two years ago, we came together in Orange County to defend sanctuary and defeat the hate circus that wants to see our communities disappear. That hate circus has not gone away, it has only unmasked itself. But we're still here, and we're going to be here - living, working, dancing, like our people do.
October 2nd will be a day for Vietnamese and Latinx youth, families, and all to celebrate who we are and our community, to reaffirm what we can be, and to re-imagine the world we want to see. It's time to bring human rights home. We expect our elected officials and those who have the power to make decisions that impact our lives to do the same.
This event is free and open to the public.
Dancing is optional. Human rights are not.
Art activities, food and vendors.
Our Music Line-Up:
Headliner: Bambu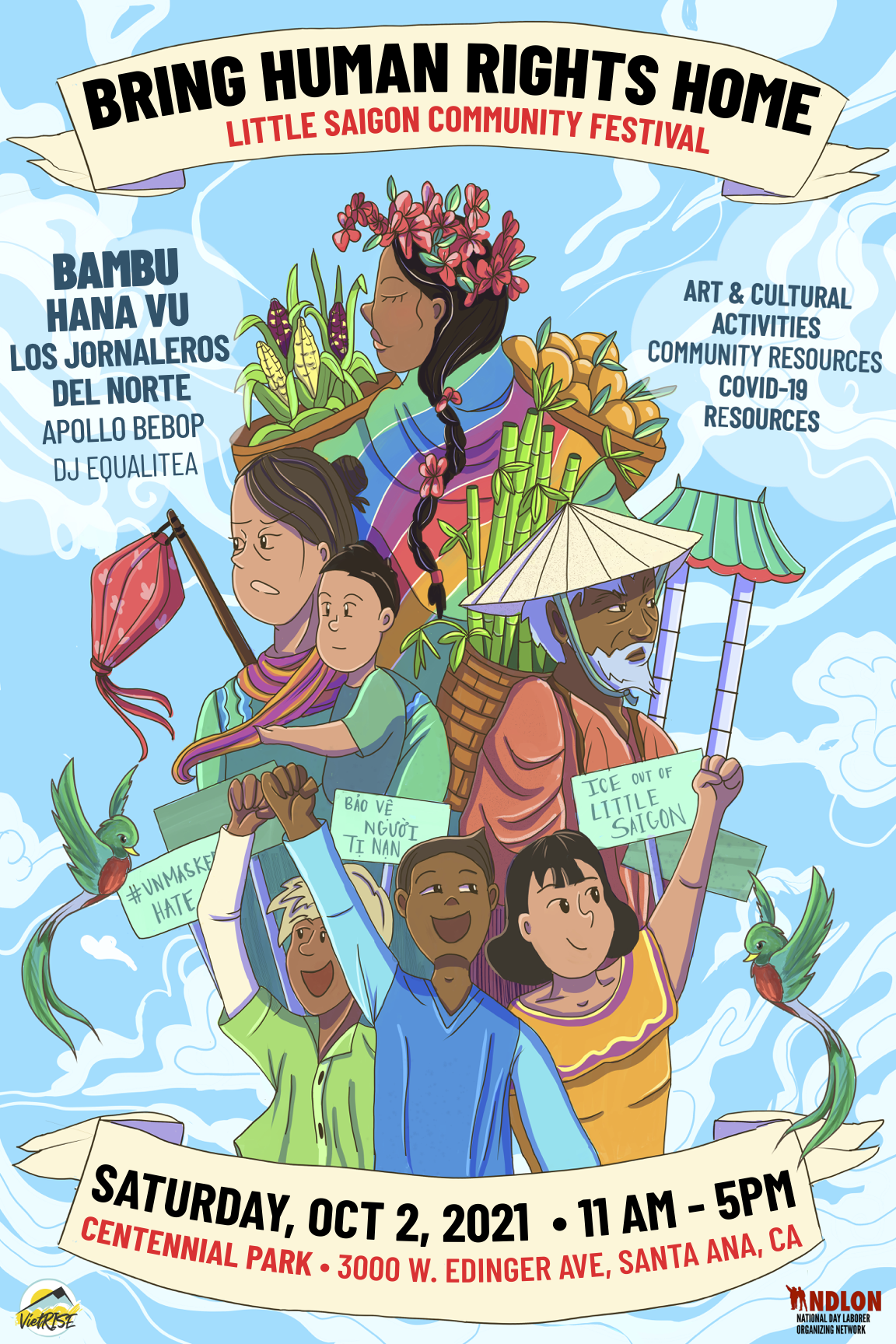 Official poster. Illustration and design by Thao-Vy Nguyen.
---
PROTECTIONS AGAINST THE SPREAD OF COVID-19:
During this time, in order to protect the health and safety of all attendees, performers, and volunteers, please wear masks and keep them on throughout the entire event unless you are eating in the designated area. Please wear a mask even if you are vaccinated. We will have sanitation stations with hand sanitizers and free masks at every table throughout the event.
PARKING & DIRECTIONS:
When you enter the park, please park closest to the left side of Centennial Park, near where the skatepark is. Our event will be located there. There will be an info booth for you to check in. You will see signs in the park pointing you to the direction of the event.
---
WANT TO GET INVOLVED?

→ Sign up to volunteer: bit.ly/21bhrhfestvolunteer
→ Sign up for your organization or business to table at our festival: bit.ly/21bhrhfestorg
→ Want to sponsor the festival? Visit bit.ly/21bhrhfestsponsor! Your name(s) will be featured on our program during the festival.
---

This event is organized by VietRISE and the National Day Laborer Organizing Network (NDLON)

All inquiries: general@vietrise.org
Media inquiries: Tracy La - tracy@vietrise.org
Artist inquiries: Marco Loera - mloera@ndlon.org