Annual Convention of Veterans For Peace: Sacred Lands, Sacred Lives: Peace Knows No Borders
Start:

Thursday, August 15, 2019

•

12:00 PM
End:

Sunday, August 18, 2019

•

5:00 PM
The 2019 National Convention of Veterans For Peace will be hosted by VFP Chapter 35 in Spokane, Washington, August 15-18. Our convention will be at the Doubletree Hotel, located right next to the Spokane River in downtown Spokane.
The theme of this year's convention is Sacred Lands, Sacred Lives: Peace Knows No Borders.
This year's convention will be one day shorter than past conventions, which will make it less expensive for all. The Board meeting will take place on Thursday during the day, and the President's Reception and Poetry Reading will take place on Thursday evening. There will be one day fewer for plenaries and workshops, as we try out a somewhat different format.
The rooms at the Doubletree Hotel are nice and reasonably priced for the VFP Convention ($133 + 12% tax = $148.96). Since the convention will be shorter by one day, this will be even more affordable.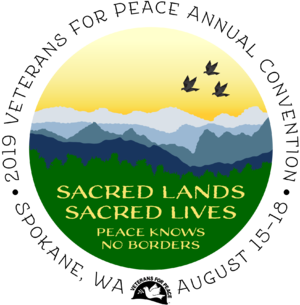 Workshop Applications Now Open

Workshops are one of the most important activities during the Veterans For Peace annual conventions. Most of them are organized and led by Veteran For Peace members. We greatly appreciate the time and effort presenters put into creating their workshops. Usually there are two days of workshops. This year there is only one day, Friday, August 16, therefore time slots are more limited than in past years. As a result, not all workshops will be selected.

Workshops that follow the theme of the convention, Sacred Lands, Sacred Lives: Peace Knows No Borders, and/or address these issues
Climate Change and Militarism/The Environmental Cost of WWar
U.S. Intervvention Around the Globe
will receive high preference but aare not guaranteed acceptance.

Please see our website for more information.
A little about Spokane: it is a beautiful city whose star is rising. It is very popular with tourists. The downtown area is gorgeous, with tons of great restaurants and stores. There is a vibrant and growing progressive community. Everything is centrally located and convenient to the Doubletree Hotel. The Spokane International Airport, five miles from downtown Spokane, is served by five airlines with nonstop service to 13 airports (as of 2016 - probably more now as Spokane is experiencing significant growth).
Spokane VFP Chapter 35 is very active on multiple fronts, from opposing militarism to protecting the environment. Within striking distance of Spokane are active VFP chapters in Seattle, Tacoma and Olympia, Washington, as well as Portland, Oregon, all of whom will be actively helping to plan and build the Spokane convention. We can expect some special guests from nearby Canada as well.
So mark August 15-18 on your calendars. You will want to be part of another great VFP Convention, this time in the beautiful Northwest.