No Racism Rally in North County
Start:

August 19, 2017

•

11:00 AM
End:

August 19, 2017

•

12:00 PM
Just when we thought the worst thing to happen last week was the threat of nuclear war, events in Charlottesville, VA Saturday drove the immediate threat of domestic terrorism home. A group of neo-Nazis held a rally at the University of Virginia protesting the removal of a Confederate statue. When counter protesters descended on the demonstration, a neo-Nazi intentionally drove his car into the crowd, killing one woman and injuring at least 19 others. Trump took much too long to comment on events and when he did, he equated the vitriolic actions of the racists to those of the counter protesters by condemning hate "on all sides."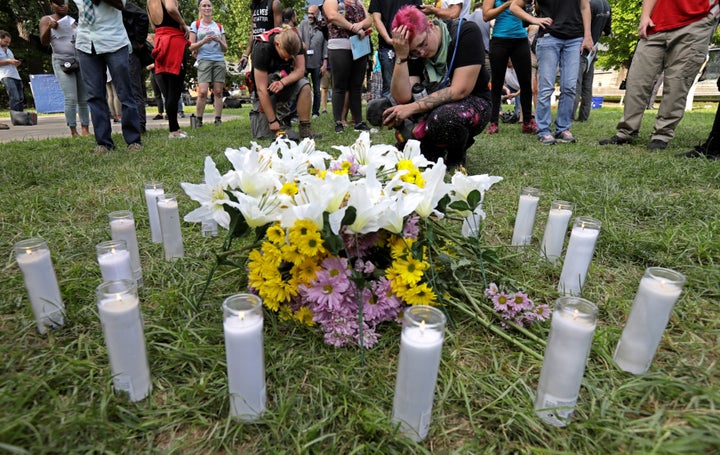 JIM BOURG / REUTERS
People pay their respects at a vigil where 20 candles were burned for the 19 people injured and one killed when a car plowed into a crowd of counter-protesters at the "Unite the Right" rally organized by white nationalists in Charlottesville, Virginia.
Many Resistance Groups have stood up against the horrible events in Charlottesville and have reacted against the unacceptable response of our President. It is now our turn in North San Diego County to show solidarity with our brothers and sisters in resistance to protest the white supremacist movement. We will also demand that Trump
disavow white nationalism and fire white nationalists on his staff;
restore funding for programs designed to combat white nationalism (that Trump wants to defund);
defund Trump's hateful, anti-immigrant agenda that is itself terrorizing our communities.
Parking
Park in the general vicinity of Macaroni's but please don't park adjacent to the restaurant. They had security there patrolling the parking lot because they didn't want their customer's inconvenienced by us. So just be respectful and give them parking space.
Security and Safety
Some right-wing organizations have encouraged their members to infiltrate and disrupt progressive events. While we believe it's highly unlikely this will happen, we should be prepared! If you notice anyone who claims to be on our side acting substantially out of line, use these tips to help you de-escalate the situation.
Stay calm and avoid confrontation. Overall, the most important thing is to avoid confrontation, which can be difficult and can be completely misinterpreted. Stay cool, calm, and respectful. Be sure to notify anyone wearing an orange safety vest of ANY problem. We're trained in de-escalation techniques and can defuse the situation and/or contact police.
Watch your language. Be intentional in using language that is nonviolent and inclusive at all times. Assume anything you say could end up on Fox News.
It's okay to ask someone to leave. If you notice a person filming without your consent, or if anyone makes you uncomfortable for any reason, it's totally fine to ask them to leave the event. If they refuse, ask the rest of the participants to ignore them and not engage with them. Don't let a disrupter distract the rest of your participants!
If necessary, engage the authorities to address someone who is continuously disruptive or confrontational.
If you see anyone disrupting or generally misbehaving, take out your camera and start videoing or taking photos, particularly of license plates. The police and mall security are aware of the situation and encourage us to file reports if things get out of hand. They are as concerned for our safety as we are.
In the resistance with you!
Tom Iarossi

*Note: By choosing to attend this event, you are acknowledging the risks involved, and you are committing to participate nonviolently and in accordance with the law, and to work to de-escalate confrontations with opposing persons or others. You agree (i) not to engage in any act of violence or violation of any applicable law and (ii) to obey the orders of authorized event marshals and law enforcement authorities.
*Overpass signs: Please, for safety reasons, do not hang signs over the freeway on the overpass. Indivisible NSDC does not endorse this activity.