Indivisible KC's Week in Action - Kansas, June 25th
Hello, Kansas Indivisibles!
What an incredible weekend of activism! The Kansas Day of Action turned out volunteers in droves to knock doors for their candidates, and rallies every day gave us all an opportunity to show up for our immigrant friends and neighbors.
On Friday, hundreds gathered in front of Kevin Yoder's office to call upon Congress to do more to reunite families. Yoder chose to use the opportunity to dismiss these efforts and pat himself on the back yet again, completely ignoring the crowd's heartfelt advocacy. "But why should I be surprised or dismayed by Yoder's response? Kevin Yoder has continuously dismissed every effort we've made to connect with him as political stunt," writes one of our organizers. Read the full post here.
And on Saturday, we gathered with KS/MO Dream Alliance and concerned people from around the community to say NO to the xenophobia and carelessness of Kris Kobach and his fundraiser, Ted Nugent. Around 175 people attended the fundraiser, wrote the Kansas City Star, while over 100 counterprotesters gathered to chant, sing, and reject hate.
In the News
Keep up with the most impactful stories and be ready to take action on developing stories.
Families in the border are still in trouble. Families seeking legal asylum are being imprisoned, and children are found in traumatic conditions. If these are the camps they're showing us, what's happening in the places where they don't allow visitors?
The executive order that ended family separation instead puts entire families, including young children, behind bars. This and other recent administration policies propose moving families to military bases and attempting to explicitly bar congressional oversight. Excluding Congress is one of the most chilling chapters of this deeply disturbing story.
The U.S. pulled out of the United Nations Human Rights Commission after it criticized Trump's treatment of immigrants and legal asylum seekers. The world will now move forward without the U.S. having a seat at the table.
Trump campaign manager Paul Manafort is in jail awaiting his trial since violating bail terms with attempted witness tampering. He's asked for the court to ignore lawfully gathered evidence against him and been denied. Catch up on the Trump/Russia scandal at "2016 active measures". There have been five guilty pleas so far.
As anticipated, after throwing the budget off kilter with last year's unpopular tax cut for the rich, the GOP introduced a bill to slash spending on healthcare, social security, and other programs that millions of Americans depend on for basic survival. The deal would privatize much of Medicare and convert Medicaid to block grants, a funding structure notorious for misallocated spending.
Election 2018
Be ready to elect or reelect officeholders who are working for your values on your issues!
Voter Registration Push

Indivisible KC is joining with progressive grassroots activists to plan a week-long registration push from
July 11th
-
July 17th
-- the final day voters can register before the primaries! Phone and text banking as well as community networking will be focus of a lunchtime rally at the Jack Reardon Convention Center on 7/11/18, with special guest Jason Kander headlining the program. Stay tuned to the Indivisible KC
website
and
Facebook
pages for updates as they become available.
Canvassing
Still haven't tried knocking any doors? Perhaps you're a little nervous about it? The fine folks at Swing Left have put together a video well worth watching. Five minutes will give you all the confidence you need to go talk to some voters in our very own swing district. If we have these conversations now, we can get the representation we deserve come November. Take a look!

Calls to Action
Take action on your own schedule! Use your phone and computer to make your voice heard.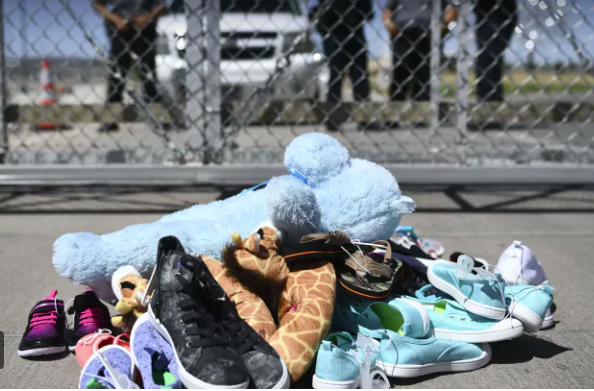 Herd on the Hill has updated their letter template to respond to Trump's executive order and all its inadequacies. You can use this service, run by DC-area residents, to send letters directly to your Senators. Go write your letter!

And if you can, take a moment and review more ways you can help families on the border. This tragedy isn't happening in our backyard. If you have the means, send money to help. Local organizations can do the most good, they just need the resources to do so. If you can't, keep awareness up among your circle and keep up the pressure on your MoCs.

Finally, get ready. Healthcare is under attack again, this time along with Social Security, Medicare, and Medicaid. We'll keep you updated with calls to action.
Upcoming Events
Take action with others! Build energy and connection among like-purposed people. Check our social media frequently for more up-to-date event information.
Monday, June 25th
Join the ACLU and local grassroots organizations for a "Know Your Voting Rights" training. Kansas voting laws are confusing and have been changing frequently. The event will cover everything from ID requirements to what to do if you encounter an issue at the polls. Visit the Facebook page for more information, and RSVP here.
Friday, June 29th - Sunday, July 1st

It's a party - and you're hosting! Be a voice for voting among your own circle of friends. We all know someone who doesn't vote. Throw a party this weekend to get your friends involved and making a plan. Mainstream Coalition has put together all the materials you need for a voting-themed party. Be the host with the most votes and click here for all the details.
Saturday, June 30th
Join other concerned people around the metro for a Families Belong Together rally at Penn Valley Park at noon. Visit the Facebook event for more details about the KC event, and the Families Belong Together page for information about the nationwide rallies or to find a different event.
Sunday, July 1st

Did you know that DACA renewals can cost $500 each? Join the KS/MO Dream Alliance at 4pm for a family-friendly picnic fundraiser that will raise money to help DACA recipients stay in the country. Features music food, games, and raffles. Click here for more information.
Monday, July 2nd and Tuesday, July 3rd
Shawnee Mission Area Council PTA is hosting candidate forums for all the candidates in Kansas House Districts 17, 23, and 18. (Double check your district here!). Come to one of the two events to learn who will best support your priorities for public education. More information is available on Facebook about the July 2 event and July 3 event.
Don't forget - we need YOU! Indivisible KC is looking for specific, task-oriented volunteerism from YOU! Now is the time to step forward and work to preserve our more perfect union. Please see the current volunteer need list and sign up for something today. Don't forget - activism is more fun with a friend!

See you out there -
Indivisible KC