Tell BC Government to pull Israeli Apartheid Wines Now!
Tell BC Gov't to pull Israeli Apartheid Wines Now!
The Israeli wines currently carried in BC liquor stores are linked to the illegal Israeli settlement enterprise.
Major international and Israeli human right groups, including Amnesty International, have determined that Israel is committing the crime of apartheid. Yet the BC government insists to carry Israeli wines in publicly owned BC liquor stores, even though most are linked to the illegal Israeli settlement enterprise.
Activists in BC have sustained an on-going campaign for 14 years to have Israeli wines removed from liquor store shelves. But successive BC governments have refused to do that, claiming it was "consumer choice".
However, it was demonstrated handily on Feb. 25, 2022, that the government can indeed pull whatever product they chose. In just 2 days, the BC NDP government joined other Canadian provinces in putting a "…halt to the importing and sale of Russian liquor products from our BC Liquor Stores and provincial liquor distribution centres".
Canada Palestine Association, who has been part of the Boycott Israeli Wines campaign, were outraged: "So it can be done and done quickly, it seems. It just depends on who you are and what political agenda is being served. And clearly, the 'consumer choice' argument was nothing but a big lie."
The wines in question are either from the Golan Heights Winery and its joint venture the Galil Winery; or from the Israeli Teperberg Winery, which proudly displays a map on its website showing vineyards in occupied Palestinian territory. According to the progressive Israeli research group "Who Profits", Teperberg Winery "owns and sources from vineyards in the occupied West Bank, including in the Ezion Bloc settlement and in Mevo Horon."
Israeli settlements are illegal under the Fourth Geneva Convention and international humanitarian law. They are part and parcel of the systematic targeting of the Palestinian people for dispossession, occupation and apartheid for over 73 years. Consecutive BC governments have also been aiding and abetting the pillage of Palestinian and Arab property and resources, expressly forbidden in Article 33 of the Fourth Geneva Convention.
Last year, the New Democratic Party NDP of Canada passed a resolution that committed in part to end "all trade and economic cooperation with illegal settlements in Israel-Palestine". The Canadian government also acknowledges the illegality of Israeli settlements in its official policy.
So, why this double-standard? If the BC government still refuses to de-shelve Israeli apartheid wines, then we can only conclude that their commitment to international law and human rights is highly selective, politically motivated and racist.
Campaign supported by: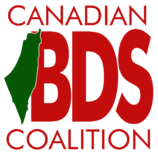 Coalition Against Israeli Apartheid (CAIA) Victoria